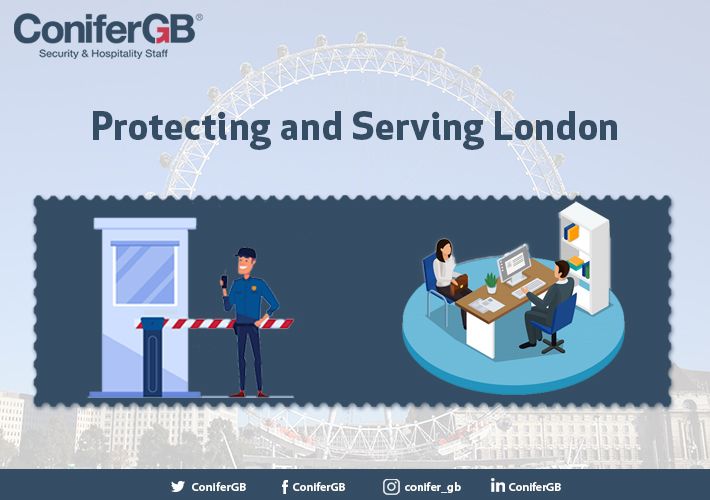 Since 2012, ConiferGB has been providing Security and Hospitality staffing solutions to Hotels, Serviced Apartments, Galleries, Law Chambers, Schools, Universities and many more businesses alike.
ConiferGB helps businesses strengthen their security systems then implements effective solutions. We also assist the hospitality industry with staffing, housekeeping, and management.
Let's take an overview of the services we offer:
Security Services:
Whether you are a retail store, a hotel, or a data company- you need fool-proof security to outsmart vendors, thieves, and burglars. With ConiferGB, your data, people, property, and premises are secure. Our SIA-qualified security guards and advanced security solutions will provide you a comprehensive security system to protect each aspect of your business. Our security services include:
Concierge & Reception
Retail Security
Construction Security
Schools, Colleges & Universities
Car Park Security
Hotels & Serviced Apartments
Events Security
Hospitality Services:
For hotels, serviced apartments, and guest accommodation providers, it can be challenging to find experienced and reliable staff. ConiferGB takes the challenge away. Our trained professionals are available to help hoteliers on a short-term, long-term, and emergency basis. Our hospitality services include:
Front Office
Housekeeping
Food & Beverage Staff
Night Reception & Porters
Management Staff
Facilities Management
Wrapping up…
During the COVID – 19 pandemic, we've been helping businesses with empty building security, access control, and adhering to new guidelines. We keep ourselves updated with the latest government guidelines, social distancing and protective measures. At ConiferGB, we take our commitment to Protecting and Serving London very seriously. We are always here for you.
ConiferGB provides Security and Hospitality services since 2012.
For all your security and hospitality requirements contact us on 020 7183 5347 or email info@conifergb.com