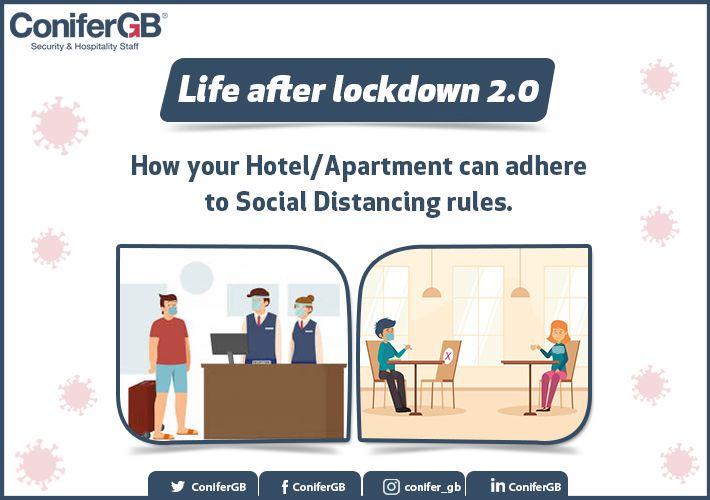 Life After Lockdown 2.0 – How your Hotel or Apartment can Adhere to Social Distancing Rules?
The Covid-19 pandemic has entered its second wave as the number of cases continues to rise in Europe. In England, lockdowns seem to be the new normal. However, this brings unfortunate news to the hospitality industry and many other businesses and industries alike.
With restricted travel policies and new social distancing guidelines, hotels and guest accommodations providers must adhere to social distancing rules and latest government advice.
What does the Second Lockdown mean for accommodation providers?
The general public are encouraged to stay at home except for work and education purposes. Travel, hotel stays, holidays within England and abroad aren't allowed. However, people who are already in the UK for a trip can continue to stay at hotels and apartments. Likewise, international visitors can enter the country and stay. However, it is advised to adhere to all regulations and guidance.
5 Ways Hotels and Apartments can Adhere to Social Distancing Rules
The hotels and guest accommodations that stay open must take reasonable measures to ensure social distancing:
When booking or communicating with guests, the hotel staff must inform them about government restrictions. Additionally, they must remind guests to adhere to these guidelines and not travel unless it is for work, education, or emergency.
Hotels must not facilitate new bookings that are not in compliance with the government guidelines.
For existing bookings, hotels can offer cancellation or rebooking if the guests haven't arrived yet. In these cases, you can either refund or provide other options for booking. This will help you restrict the number of people on the premises.
Hotels must keep their restaurants and bars closed. However, guests can still order food or beverages through room service or by ordering online or by
You can keep the common areas open. This includes lobbies or lounges. However, make sure that your guests observe social distancing.
Wrapping up…
Adhering to the new social distancing policies has added to the workload on hoteliers and staff. However, the failure to do so may result in the immediate closure of the premises.
In these uncertain times, welcome all the help you can get. ConiferGB is here to support you. With the goal of protecting and serving London, we assist hotels, apartments and guest accommodation providers to recruit experienced staff.
We can help you with front desk staff, housekeeping, night reception, and porters, as well as recruiting the best management staff in London. Our SIA qualified security guards can help you make sure your guests and staff members adhere to social distancing.
ConiferGB provides Security and Hospitality staff, for all your security and hospitality requirements contact us on 020 7183 5347 or email info@conifergb.com