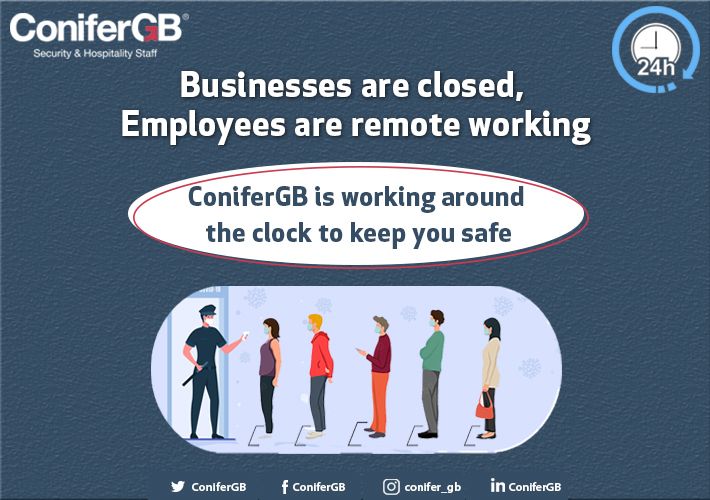 As England enters its second nationwide lockdown, many businesses are closed. To prevent the spread of the Coronavirus, many companies are providing flexible or full remote working options to their employees.
As businesses wait to reopen, there is a rise in vacant residential and commercial buildings. There are almost 24000 vacant commercial buildings currently. Our biggest concern is to secure them from any unfortunate events of theft, vandalism, and property damage.
In these uncertain times, ConiferGB– your trusted security company- is working around the clock. We continue to assist businesses by implementing security solutions tailored to their unique needs. Here is how we are ensuring that you and your employees come back to a secure workplace.
1. Comprehensive Security Solutions
Being one of the leading security companies in London, ConiferGB provides full-spectrum security services for residential, retail, and commercial buildings. We also provide comprehensive security services for construction sites, campuses, Car parks, and events.
2. All-Rounded Protection
When it comes to protection, we stop at nothing. From uniformed manned guards to CCTV monitoring, we provide a smart approach to prevent theft, vandalism, and trespassing.
3. Regular Security Patrols
We value the trust you put in us by choosing ConiferGB as your security company in London. Therefore, we plan and provide solutions to meet your unique requirements. With more and more offices getting closed, we offer regular patrols of your premises.
4. Complete Access Control
When most of your team is working remotely, it can be difficult to monitor who enters the building. With complete access control, we help you manage and restrict access to important areas in your building.
Learn more about our security services.
ConiferGB provides Security and Hospitality staff, for all your security and hospitality requirements contact us on 020 7183 5347 or email info@conifergb.com